Various Cures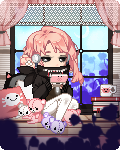 Details
Last Login

03/03/2015 1:09 pm

Member Since

07/01/2006
Gender

Female

Birthday

12/15
---
Interests
Favorite Reads
Favorite Music/Bands
Hobbies/Interests
About
Comment Me
Message Me
Trade with Me
look at all my friends
[D/A]
Be Friend Me
,
,
,
,
.
My ultimate favorite horror movie ever!! xD
I'm going to start comissioning real soon >:'D I need some Gaia Gold if yah know what I mean :#

C:>
Journal
What's a few Innards between Friends!?!
If you are feeling the need to know a little more about me then please read my journals...
Who knows what snow ball of coconut goodness you'll find here.
Signature