Vanilla Chai Honey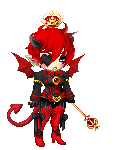 About
Some things to know about me:


∆ 23 years old
∆ I'm a candyholic
∆ I love drawing.
∆ I play a musical instrument. Take a guess? You may win a prize.
∆ I'm obsessed with sharpies. They are the gods of markers
∆ I love Laurel K. Hamilton's Anita Blake series.
∆ My face, the horror! The platypus is cute though.



Some things I dislike:


º Rude people. I can have my moments. But I mean people who are mean just for the hell of it.
º Mayonnaise, the stuff is just gross
º Hateful people
º Little yappy dogs, give me a St. Bernard any day.
º Rap.


Signature