Vampire_Nikki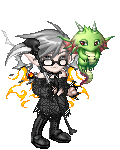 Last Login: 09/14/2015 1:36 am
Registered: 03/29/2007
Gender: Female
Location: A dark corner of my mind...
Equipped List
Interest Tags
Favorite Movies/Anime
Favorite TV Shows
Favorite Reads
Favorite Music/Bands
Hobbies/Interests
About
Ok!!!! Konnichiwa people! I'm Nikki! I really love Manga and Anime and Roleplaying and a lot of other stuff! I am a very friendly person and I won't judge you! I get along with almost everybody! So....If you want to be my friend, send a request! Also, if you have any questions for me, just ask! Bai-bai!
Journal
The Vampire's Randomness!
Just random things about anything!!!
Signature
"I became insane, with long periods of horrible sanity." -Edgar Allen Poe

I'm a broken heart, but I love from afar. I love him with all my heart and always will no matter what.