usaginano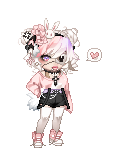 Details
Total Posts

41463

Member Since

01/25/2007
Birthday

10/30/1987
---
Interests
Favorite Movies/Anime
About
!
I'm Laura, but I often go by my nickname Hana. I'm a 28 year old and I live in a 1 bedroom apartment in NYC with my husband. My baby girl was born on 10/23/2015 so I'm not on here much anymore. You can most likely find me posting in my hangout thread: Hope. Feel free to quote me, message me, leave a comment - I'll reply eventually.

For entertainment I enjoy casual gaming, reading manga, watching anime / Kdramas, and listening to Kpop / Jpop. 4Minute is my bias. I do listen to a lot of Paramore and other music groups, but mostly Kpop these days.
Aaaand if you haven't noticed I am a bit obsessed with Pastel Goth. I just love the contrast between black and pastels. I <3 Sailor Moon, bunnies, bows, watching dramas, mint candy, and chilling on Gaia.
Ask me anything
!
❤

















Friends
Viewing 12 of 85 friends
Journal
You used to captivate me.
Multimedia
Signature
10.23.15