ur-darkstar valentine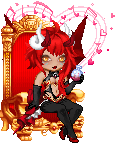 About







mood: oblivious

curently: coffee, sweets and books whats to love more?



I am a virgo, wiccan, good at everything except sports and things that require hand eye coordination and learn quickly. My family bloodline in thick with witches and angels as well as ties to the spirit world. In the tarot deck I'm associated with magician in the major arcana & the hermit. In the minor arcana I'm associated with the knight of pentacles & Wheel Of Fortune. I love studying and learning new things. I love cooking and baking and making people smile through food. I'm also a workaholic and love to stay busy or sleep all day.....I'm an extremist lol. I'll also go through anything if it's for the sake of someone I care about....I'd even kill without remorse of said target deserved it.


I LOVE MUSIC IT IS MY LIFE JUST LIKE MY ARTISTICNESS

LIKES: trucks, motorcycles, caffeine, music, anime, hentai, manga, nature, walking, photography, traveling, wood working, reading, writing, talking, anything mythical, magic(wiccan), plushies, cooking, baking, trying new things, any kind of food, animals, sience and math, guns, dairy (espicaly milk), fish, glow-in-the-dark things(they excite me), cats and nekos, rain and the cold (snow....etc), the moon(partculiary when its full), games (any kind), the night


FAT PEOPLE SCARE ME! STAY AWAY o_O Dislikes-hate; bossy, stuck up & fake ppl, back stabbers, liers, cheaters, stealers, rapists, therepists, doctors, calimari, squid, es cargo, snails, bugs, spiders, oh and my pet pevs are fake ppl, narrow minded ppl, ppl who act stupid, when ppl boss me around or think they are better then me, when ppl put down other ppl ... thigh I do it allot myself because it's in my nature to point out faults in everything from miss pronounced words to not cleaning correctly out missing something because I'm a perfectionist at heart.

Journal
The wacked out life of a women like me
lol just stay tuned in and u will se what hardships people hve not even begone to imagine and what we have and what we lose and well yeah ^^ thax for reading and i hope that u learn a few things while ur reading ^^ <3
this will be about everything!!!!! well the joural is gonna be wack its about everything from my life to drams that i have to the crushes to basicly me just venting watchout though i tend to curse when im mad or frustrated
Signature
FOREVER FALLEN FOREVER CURSED TO SOLITUDE