About
Oh, Hey there, what brings you here?


[align=center]
Before I babble on about my boring life I just want to tell you about a wonderful boy who I love dearly, more than your mommy loves you.;D Everytime I talk to him he brings a smile on my face, he is always the one that makes my heart sing with joy. We talk about the most random stuff and we argue about who loves who more. Yet, he should know who loves who more. ;3 When he is online, it's like a new beginning for me. I think of him EVERY single day, and they are the happiest moments ever when I think of him. This boy is my one true love who I want to spend every moment of my life and I don't want anything to change that. He is my bright start in the night sky, I even named a bright star after him because I know he is always looking after mean even he isn't with me at that moment. I want to

MARRY

him, and have the best wedding ever. c: If there was one word I could describe him it would be, 'perfection' becaus he is perfect in every way and I don't him to change anything about him. He is always the nicest person and makes me feel so warm inside, especially when I'm down. He knows how to make me blush alot, and CHRIS is the only person that can make me blush a ton. I sometimes sit in bed wondering if he's thinking of me as well. There is never a moment where I get tired of talking to him. I just want to hold him in my arms and never let go. I want Chris and I to run away to a world where noone can interfere.
I LOVE YOU SO MUCH, CHRIS.
I can't wait to spend my life with you in the near future.
<333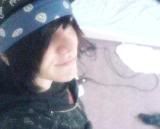 This little cuite right here is my nephew, Mason. With my feet. O:
My Guild I am in with my good friend, Secksual.
We would really appreciate it if you joined, we need all the members we can get.
c:
Please and thank you.
Congratulations, you just stepped on upon my profile so you are going to have to waste 5 minutes of your time just to read my about me. Well, to start it off, my name, not important I am fifteen years of age, and I act very immature, but I am very literate and try to use as much proper grammar as possible. :] I'm the type of person who is very shy and keep my emotions to myself avoiding people who I don't trust. I have dark brown hair, I have my nose peirced, and lip peirced. I have quite a potty mouth believe it or not and tend to talk like a sailor. I throw the biggest tantrums out there, and I'd suggest you'd avoid me if you started to get in the middle of them because it isn't a pretty sight. But I'm a pretty outgoing person and easy to get along with. :3 I live in alittle state called Florida, nothing very big about it, I hate it. I don't know how people see this state as the most amazing place. It's alittle s**t hole and filled with nothing but tourist. >: | I hate the beach, because I burn I never tan. So, why even bother? I love to hang out with my friends we have some good times and some bad, but they all eventually work out. I never get along with my mother and stepfather because all they ever do is b***h and treat me like s**t and I could careless about them and there ******** nonsense. I haven't cared for two years already, but you know me. :/ I listen to alot of Jrock, and alot of genres of music I listen to are acoustic and electronica. But I'm not that picky about any bands, so go ahead and recommend any bands that I should download, I'd really appreciate it. :3 I don't really have all that much to say, but I'll think of more later.
D':

I has fan sign.

I so awesum.

This is my bish.

Friends
Viewing 12 of 47 friends
Journal
Fun/boring life OO:
Idk,and I dont give a damn DDDD: You got your descriptions bishes DDD:<
Multimedia
Signature

I love this boy more than your mom loves you.
<3