A few of the things I like
Favorite Movies/Anime
Favorite TV Shows
Favorite Reads
Favorite Music/Bands
Hobbies/Interests
Twisted Time Lord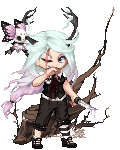 Last Login: 10/24/2014 10:28 pm
Registered: 06/01/2007
Gender: Female
Birthday: 07/24
Occupation: Security Guard
About
I'm a great big ball of wibbly wobbly, timey wimey......stuff. Well that's the short answer anyway, I guess I could list a few hobbies I like such as: I am learning how to play the electric guitar, I love to sing and am always practicing to get better, I love photography like a lot and I love to make my own costumes occasionally as well.
The "I'm talking to myself in public" section
Stuff I think about in my spare time
Wait...I have spare time?!? Where?!?!
Pixelated Items of interest