Tussies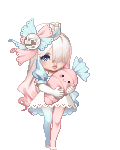 About


Mind is like a butterfly,
flying high and low, from dusk
til dawn trough rain and sun,
up and down it goes.


You can call me, Tuss.. <3

I removed my about section since it needs updating but I'm feeling too lazy to do it at the moment..... :] I will do it though! Sooner or later.



"You must be the change you want to see in the world."

"An eye for an eye makes the whole world blind."
- Mahatma Gandhi.


"When the power of love overcomes the
love of power, the world will know peace."
- Jimi Hendrix.