Turbo Tetra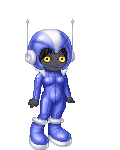 Last Login: 08/24/2016 2:37 am
Gender: Female
Birthday: 10/24
Turbo Tetra-s Car: Login Driller 13
Turbo Tetra Journal
Turbo Tetra's Stuff
This is where I will be posting my fanfics , stuff about my costumes, conventions, projects and such I am working on related to Turbo Tetra and or Wreck-It-Ralph. Hope you enjoy !
About


Basic Info:

Name: Tetra
Code Name: Turbo Tetra
Catch Phrase : TURBO TIME!
Game: Turbo Time Racing
Height: 5ft 5in Human standard
Location: Currently Game hopping
Age: 29 human years
Gender: Female
Alliance: Currently Lawful Neutral
Special Ability: Agile on her feet and can race just about any racing cart.

___________________________________________________________


Roleplay Type: Fantasy /Scifi

Wreck it Ralph

________________________________________________________
Preferred Method of RP : Paragraph Semi Paragraph Multi-Paragraph
________________________________________________________


Search: Turbo Tetra

Accessing Data :

One entry found:


Name: Turbo Tetra


Goes by: Tetra


Age/Design Age: Adult Humanoid with grey skin , yellow eyes, navy blue flight suit with white stripes on the arms, blue matching helmet with white stripe across the top.


Eyes:Glowing Yellow


Race: Turbo Time Racer


Hair: Black, long and often kept in a pony tail.


Height: 5ft 5 inches by human standards


Weapon: None

Special : Swift on her feet and fairly agile


Type: Game Program


Status: Single


Personality: Cautious and Quiet at first but quickly becomes a chatter box and the life of the party. Enjoys the simple pleasures of life and racing. A bit wild in nature when she cuts loose. Often very curious which can lead her to get into trouble.

Likes: Any Racing, game hopping secretly


Dislikes : Harm coming to those she cares about, Spiders , being forgotten or being trapped or tied down to one place.




Bio:

Before Turbo:

Turbo Tetra is one of the NPC racers that reside in the Arcade game Turbo Time. She is a background character and often strives for first place but is normally beaten by other racers (specifically Turbo) While the game was still around she would not game hop much except to go to the Tapper to relax from time to time.

(After Turbo)

When Turbo abandoned his game she caught wind of something fishy going on when he didn't show up for a scheduled race. Deciding to check it out she follows him only to be threatened and kicked aside. Before she could really tell anyone what had happened both consoles were unplugged stranding her in the Game Central Station. She now game hops, mostly into racing games trying to fill the void that was once her home. No matter how many other games she races at it is never the same as Turbo Time. She can often be found at the Tapper, game central and various racing games. Despite the loss of her game she refuses to sit down and do nothing.

___________________________________________
Gaia online Profile:

Turbo Tetra is a strange being, it is unclear where she came from but one thing is for sure she is not human. While some may find her appearance a bit creepy she seems to have but one agenda in this world, race and be the best racer there is in the Rally. She is proud of her Login Driller which is capable of going quite fast and the dangerous drills are often used to block, ram , or flip the competition out of her way. She is always up for a race rather she wins or looses. The Login Driller while very fast is a bit slow to get back on track if she is hit or skids out of control. Despite this the Driller 13 is a force to be reckoned with on the racing field.

Want to have a race, come see me in Rally !

Turbo Time


_________________________________________

Other Contacts:

Want to play with me ? Come join me in Second Life on the tracks !

Skype: Ask

Second Life: Feram Brimm

Deviant Art : http://turbotetra.deviantart.com/

Please let me know this is where you found me if you wish to add.
______________________________________

I am a convention participant , costume maker, cosplayer, gamer, roleplayer and in general just like to have fun. I do this for fun and to get away from the mundane normal life.

If you got a problem with that and one of those who have nothing better to do than to troll then move along please I am not here for your entertainment and i never asked for your opinion ;p if i did i would remove the duct tape.



life is too short to waste it on jerks.

If you want to roleplay, chit chat about costuming, anime, video games, scifi ect and above all Wreck it Ralph feel free to hit me up I'm game for awesome friends.


Event Schedule:


2014 Convention Schedule

( Hope to see ya at a con ! ) Turbo-Tastic !


___________________________________
Nintendo DS Friends Code: 5155-4341-9676