Tsuki Sumarasu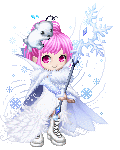 Last Login: 02/22/2010 6:50 am
Registered: 07/29/2006
Gender: Female
Location: In a magical world, with my friends.
Forums
Posts per Day: 0.01
Total Posts: 44
Equipped List
Wish List
Signature
Duct tape is like the force. It has a light side, a dark side, and it holds the universe together....
About myself
The only thing that still brings me to Gaia again is my avatar. I just love getting new stuff for it, but now I'm broke. T-T
My Aquarium
A beautiful moment.
The sun was setting on the horizon. Slowly, the colors of the rainbow started to appear. In the sky, some seagulls were coming back from dinner. A little dragonfly flew peacefully over the water. The time seemed to have stopped, if not from the sounds of the city and the ripples every now and then created by a fish that was hungry. Looking at the horizon was a peaceful moment.

Two young ladies came to sit on a park bench. They were talking as they watched the beautiful picture. More shades of colors had began to show, as the gradient of the rainbow made itself more magnificent. As time passed gently, lights were coming out the windows of multiple houses. The reflection in the water were like another world, tall towers of crystal from which the light emerged.

In the sky, birds forming a majestic 'v' were coming back from the south. A butterfly came by, looked around to finally go back whence it came. The two women stood up and left as the sunset was nearly over. As I watched it to the end, I realised that I was at peace.

Journal
Tsuki's Journal
Maybe I'll post in here, maybe I won't