About
Why, hello there! :]
My name is Amy but I have also been called Sunny, Strawberry, and loads of other things that I can't think of at the moment.
I am LITERATE.
I like to RP.
I support BARTON, always have.
This is a newer account that I have recently made into my main.
My very first account was AngelofLove22,
and somehow I ended up as

Strawberry Apparatus

Trix Victim!
I've been many things in the past,
but i'm proud to say that i'm going to stick to this one (hopefully).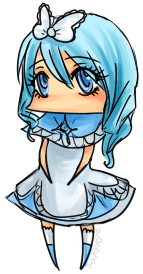 I love cute art!
Sooo if ya wanna make me some...
I would not object!
If you know any good chibi artists/cute-style artists,
PM me and let me know, ya?
HEHE
Friends
Viewing 12 of 26 friends
Signature
<3