Who readin' a book?

I'm Zee
I have been on this planet for 16 years
Hobbies consist of: watching anime, reading manga, playing games, drawing and attempting to be social
I'm not hard to talk to so I wont bite too hard
ill be your waifu if you feed me
will forever wonder why senpai won't notice me
-->Mi face<--
-->Dumblr|Twit t**t<--
Find me and ask me s**t
or you know, pm me.

Who is this ugly a** kid?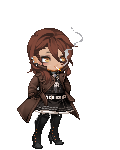 Gender: Female
Birthday: 03/23