About
Hello there! :3
Gaia name: Torn Veil
Real name: Agnes ;>
From: Lithuania ♥
Age: 18
B-Day: 03.03



Likes:

ice cream, waffles, hot chocolate, vanilla (ice cream) milkshake, pizza, apple pie, anime, manga, books, movies, surfing the net, drawing(mostly doodling only..), computer games,shopping,travelling, camping, lazing around at home, getting gifts, flowers, makeup

playing with my hair, photoshooting, sushi, instant ramen(is that's how it's called??

), cats & only some of the dogs such as huskies, swimming, listening to music... ♥



Dislikes:

Most of the dogs, because they're scary[was attacked few times :c ], odd taste ice creams, alcoholic people ಠ▃ಠ , onions, melons, heights, feeling sick, my old computer that I have to use, bi***es, bullies, people who fights a lot, mosquitos, ants, bees(and such), making food :c i'm not a very good cook, cause I hate making it at home, unless I feel like, and because of that I don't know many recipes, and am afraid of heat. ಥ_ಥ

~I have a dream of growing-up faster, getting a proper work (maybe a designer?♥), having my own house, or a big apartment, a walk-in closet, lots of make-up, a studio to draw stuff, a big bookshelf full of my favorite books, a pet, lots of real and good friends, a really good camera, youtube vlog? And such... Not too big of a dream said. I have a lot of different, more dreams, but I let you to find that out by becoming my friend, and getting to know me better.


See you soon, I hope.

and that is me: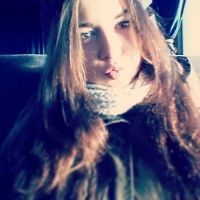 Friends
Viewing 12 of 22 friends
Journal
All daily stuff and thoughts.
Okay, as the title is saying, I am going to write anything that goes to my mind. :D like a diary, just writing not every day. o-o"
Multimedia
Signature