today-is-tuesday-too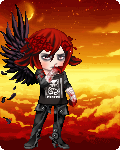 Details
---
Interests
Favorite Movies/Anime
Favorite TV Shows
Favorite Reads
Favorite Music/Bands
Hobbies/Interests
About

age:18
likes: drawing, Doctor who, sherlock, manga (it would take hours to write out the list of all the manga I read so I'll skip that), randomly dancing, sporks, cosplay, superheros, supervilans, reading, rock music, etc....

dislikes: doing things

UPDATES:

mood: uggh

MY WEIRD QUOTES:
are you talking to me or my ear?
"WALKING IN DARK AND SCARY WOODS HELPS YOUR COLON!!!"
"RUN FOR YOUR LIFE! RUN FOR YOUR PANTS!
"I'm going to go become an antisocial catipillar now"
and plenty more that i really don't think i should put here-.-"





Friends
Viewing 12 of 185 friends
Multimedia
Signature