TheSinAlchemist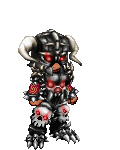 Last Login: 03/10/2015 10:40 pm
Registered: 07/30/2006
Gender: Male
Location: Hell
Equipped List
Interests
Favorite Movies/Anime
Favorite TV Shows
Favorite Reads
Favorite Music/Bands
Wish List
What I do
What I basically do is go around freaking killing people. Some of them deserve it, while the others I just do it for fun. That's the life of a soul reaper. Don't care about anything but me. Wahahahaha~!

I will be waiting in hell for you!

Wahahaha!
Some of my friends I plan to destroy
My saying
I'm coming to get you~!