TheEdgeOfTheAbyss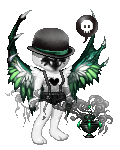 Last Login: 08/26/2016 8:19 pm
Registered: 04/22/2006
Gender: Female
Location: Swimming the Lethe
Equipped List
Interest Tags
Hobbies/Interests
Wish List
About
Since I haven't updated since I joined, here you are:
I'm in college to be a marine biologist, so if you have a secret passion for cephalopods or scuba diving hit me up yo.
I've been in a longterm relationship since april '07
I am a vegetarian and interested steampunk.
And that's all I have to say for now

Oh yeah, and I think the color grey should be exclusively spelled grey now. It just looks better that way.
Journal
Abyss's Random Writings and Rantings
I dunno....
Signature
"I asked them to look into the Abyss, and, both dutifully and gladly, they have looked into the Abyss, and the Abyss has greeted them with grave courtesy of all objects of serious study, saying: 'Interesting, am I not? And exciting, if you consider how deep I am and what dread beasts lie at my bottom. Have it well in mind that a knowledge of me contributes materially to your being whole, of well-rounded, men.' " Calvin Trilling, "On the Teaching of Modern Literature" 1960.