About
I AM

PAULA K

.
IM

21

YEARS OLD.
I LIVE IN THE

U.S.A.
im going to school for mechanical and material engineering,
with a minor in fine arts and im currently a senior in college.
i love to paint, mainly portraits and surrealism.
i love music, i listen to everything but raggae,
some favorites you'll probably know are ADTR, Pavarotti, Daft Punk, Gorillaz and the Beatles.
Recommend me music, i love to find new stuff
i like to play games like MtG, Warmachine Heroscape and D&D.
i love videogames; shooter, rpg, tactical

Im very into movies like starwars, Harry Potter and LOTR, Fantasy really.
I love Tattoos
(i have)
• Chickadee (bird) on my collar
• Brass Knuckle High Heel on my ankle that says "Hell on Heels"
• Lyrics "Now Everybody's Singing" down my side
Planning on getting Boba Fett on my upper arm next
I love Piercings
(i have)
• both back dimple dermals
• both sides of my nose
• both nipples
• ears streched to 0's
• 3 dermal in my chest
im very easy going so just talk to me and im sure we can find something to talk about C: maybe we can become texting buddies
I <3 FREE art
[x] [x] [x] [x] [x] [x] [x] [x] [x] [x] [x] [x] [x] [x] [x] [x] [x] [x] [x] [x] [x] [x] [x] [x] [x] [x] [x] [x] [x] [x] [x] [x] [x] [x] [x] [x]

I <3 FREE signs
[x] [x] [x] [x] [x] [x] [x] [x] [x] [x] [x] [x] [x] [x] [x] [x] [x]

Journal
PKJOURNAL
Multimedia
Signature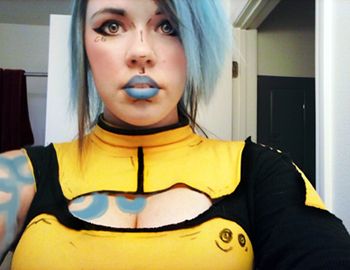 I think I might be done with Gaia for awhile....