The_Last_Angel_Of_HeavenX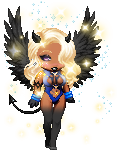 Details
Last Login

01/20/2017 7:44 pm

Member Since

07/06/2007
Location

in ur head

Occupation

:3

Gender

Female

Birthday

05/22/1994

Website
About
Hello every one so nice of you to stop by! I'm DyAna but call me Angel. I'm 22 and I live in Virginia. Photography and cooking are my top two hobbies. I'm in school learning to work in fashion! I'm a plus size girl and LUVING IT! I'm in to role playing and other things. I'm a very short tempered and very inpatient girl so you will have to live with it Ok? So yea, that s all I have to say for now if you want to get to know me better just ask.


Add me on Kik if you want to.

In_Comes_Love
ME

[align=center]
Think Gaia Needs Lip Rings?
Click The Picture To Vote!
I Think We All Could Use Something
Crazy and Obscene.






Friends
Viewing 12 of 72 friends
Journal
A Never Ending Dream.
Multimedia
Signature

I

Free Avi Art