The Original Kikirini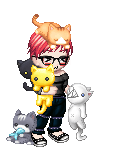 Details
Member Since

03/30/2004
Location

Vermont, USA

Occupation

Student

Gender

Female

Birthday

08/05/1989

Website
---
Interests
About


I draw two webcomics, Kuro Shouri, and Casing.
Journal
Boo. You heard me.
My journal. It'll be a rare event if I post in it, though. My actual journal is on DA.
Signature
Check out my comic!



I don't have a banner for it yet, but here's my second comic, Casing.