About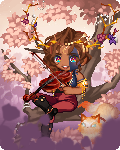 A little about me
If you are interested in this sort of thing...

Aquarius
INTP
Year of Monkey
I am here on Gaia for...

roleplaying
art
friends
Outside of Gaia I...

make 3D art assets for games and playtest games
play video games
draw
hang out with friends
Webcomics that I follow are...



Friends
Viewing 12 of 91 friends
Journal
The musical Gerudo's journal
I'm always open for art trades. want art? just ask!
art, mostly
Multimedia
Signature

lost my art of/for you? you can probably find it in my journal

Recently finished : couple art for Asor_spring2007