The Melodramatic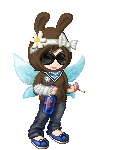 Last Login: 01/09/2010 3:32 pm
Registered: 12/28/2006
Gender: Female
Mes intérêts
Favorite Movies/Anime
Favorite TV Shows
Favorite Reads
Favorite Music/Bands
Hobbies/Interests
About
Simple yet complex, you'll always be back for more.
Addicted to music, texting, and acting.

Pictures in journal. Check 'em out home skillets.
Shut up and let me go.
I'm a free b.i.t.c.h baby.


(Lady Gaga is the sexiest thing ever.)


PM me fo sho. More pics in muh journal.