The Marajuana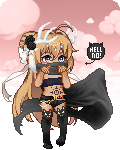 Details
Total Posts

13340

Member Since

06/02/2005
Gender

Female
---
Interests
Hobbies/Interests
About
Ask me what I'm questing and I'll tell you an item from the left.

I'm 21 soooooooo....
I like it when you're sassy


You can serenade me with Star Wars
I drink.....a lot
If I gift you and it isn't anon, goddammit you better say thank you or I won't gift you again


Talk to me

i think my avatar is perfect and if you dont then you can just go over there
FIND ME ON INSTAGRAM!
@bilbofagginss
(◔౪◔ )
Countess Mustachio is the cutest item ever tbh
I'll take your unwanted charms too btw

Journal
working.
my rantings
whatever goes on, goes on
Multimedia
Signature
.:
groping Gaia Since '05
:.

Long live the car crash hearts.
▲Art by iWantCoke▲
I'll take your unwanted Aekea items