The Man of 1000 Truths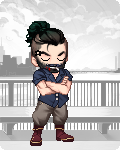 Last Login: 08/28/2015 1:17 am
Registered: 11/07/2006
Gender: Male
Location: Masada
Birthday: 05/24
Occupation: Bum
Equipped List
Interest Tags
Favorite Movies/Anime
Favorite TV Shows
Favorite Reads
Favorite Music/Bands
Hobbies/Interests
About
Known as Phil.

I've been on and off Gaia for the past several years. It's a love-hate relationship. I do log on just to check up on my friends, though I will abstain from posting. Doing so has made me calmer and happier.

I'm from Middlesbrough. Sometimes I will drop Northern English slang that seems odd. It's best to head to Google or just ask me what I mean. Trust me, even people from Southern England have asked me what I mean before, so don't worry. Just DON'T call my accent a Scouse accent or a Geordie accent.

I'm proud to be Anglo-Scottish. Two of the greatest countries in the world, who have created an empire together and have, in the past, won great battles separately. I'm Scottish on my fathers side, English on my mothers side, with family dotted around Glasgow, Nairn, Inverness and Skye.

Currently single. Things have changed now and I am happier, healthier and doing very well indeed.

I'm an avid gamer. You'll regularly see me on TF2 or any Total War game. I'm a Sony Loyalist, but recently, console gaming has bored me halfway to death.

My Steam profile is here: http://steamcommunity.com/id/galloglach/games/ . Feel free to add me.


On here looking for someone I used to talk with a lot. Jen Voje or Erickson or something. I miss 'em and really want to know what they've been up to.
Journal
/-/-/-O-/-/-| The Empire |---O---
Signature