About
Hey. I'm Zach. I'm just going to come right out and say that I have mental illness, which comes along with a mental disability. My disability makes it impossible to get a job and very difficult to do any schooling. I hope that one day I'll be able to push through my disability and get a job, but at the moment it seems like that day is out of reach. My two greatest passions in life are wrestling and music.
Yes, when I say wrestling I mean WWE. For about 10 years, I've said that I wanted to be a wrestler for a career, but these days I'm not so sure. The second career I've considered is to be in a band. I've been writing song lyrics since 2009. However, none of them have any actual music to go along. I have somewhere between 40-50 lyrics.
Hopefully, you have found this information about me very informative.

If there are any other facts you would like to know about me, feel free to ask. Have a nice day!

The Mad Land Monarch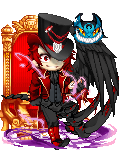 Last Login: 10/21/2016 11:50 am
Gender: Male
Location: The Wonderful Mad Land
Birthday: 10/23/1994
Occupation: Dreamer