About


Hello, you can call me Kyro or Panda. Whichever you feel more comfortable with. I tend to flirt lot's, so you have been warned.( Double if you are a cat girl!) I'm generally mellow and laid back. I try to roll with the punches life decides to throw at me when it's being a d**k neck. I've been around gaia since November '05 . When I'm not hunting down a job, I'm a fledgling anime otaku. Also, a marathon maniac for random movies and multiple cartoon series. Video games are almost like crack for me. Same goes for the trading card game "magic the gathering."


My other passions include acting and writing, when I get the urge to do it of course. A night on the town for me, would be going to the bar for karaoke with a plethora of friends and acquaintances. Playing pool or drinking games between songs. My favourite poisons are Vodka, and Jagermiester. TNT, or Molson Canadian for the lighter stuff. I'm currently Dj'ing in a few role play threads of sorts. I take the positions seriously, because I'm pondering doing the real thing down the road.

I sometimes roleplay, usually semi-lit. I tend to be a bit lazy, but when I get going I make em last a while. I tend to agree on at least a paragraph minimum. Don't be surprised if I call out for sci-fi/Cyberpunk themes. For those who want to get to know me more, or befriend me just be kind. And I'll be kind back. Sorry If I don't respond to replies,mail or comments asap, odds are I'm distracted. Or I may of been kicked off the computer.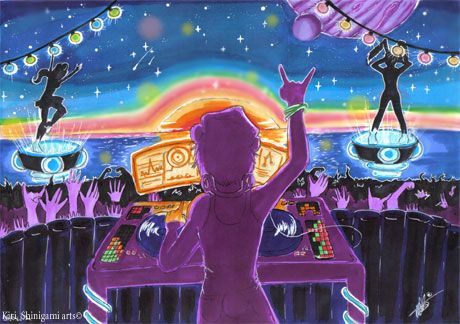 Favorite bands? (In no particular order, will keep adding when I remember something or stumble across something new) Well....



AC/DC
Porter Robinson
Guns N Roses
Nirvana
Velvet Revolver
Insane Clown Posse
Otep
Arch Enemy
Hallucinator
Judas Priest
Aqua
Pance Party
Korn
Feed Me
Alice In Chains
Disturbed
Rammstein
Ayumi Hamasaki (Especially the remixes)
David Bowie
ZZ Top
Swollen Members
Beastie Boys
Neon Indian
Strapping Young Lad
Belzebass
Kavinsky
Disturbed
Aerosmith
Kn1ght
Danger
Renegade
Cyberpunkers
Depeche Mode
Velvet Acid Christ
FM Attack
The Outrunners
4Trakz
Rob Zombie
Moby
Bush
Gorillaz
Clutch
Megadeth
Dope
My life with the thrill kill kult
K-os
Lamb Of God
Anvil
The Grid
DJ Kagami
LMFAO
Iron Maiden
Pentafunk
Devin Townsend Project
Demons & Wizards
Billy Talent
The Bloody Beetroots
Ugly Kid Joe
The Rolling Stones
Ravers On Dope
Ozzy Osbourne
Black Sabbath
Grave Digger
Sound Garden
DJ Tomcraft
Tesla Boy
Billy Idol
2 Unlimited
Steely Dan
Daft Punk
Electric Six
KISS
Scooter
Cancer Bats
Brooklyn Bounce
Dio
Run DMC
Clowns
System of a down
Knife Party
Deep Dish
No1else
KMFDM
Green Jelly
Curve
Marilyn Manson
Lunatic Calm
The Prodigy
Sinergy
Zeromancer




-------------------------------------------------------------------

TL;DR?
Canadian
Borderline Pervert
Friendly
Addicted to:
Video Games
Card Games
Catgirls
Nagas
Succubi
Comics/Manga
Anime/Cartoons
Writing
Metal (nearly all forms of it)
Grunge
Industrial
Techno (so long as it's not generic radio crap)
Trance (like wise with techno)
Hardrock
Retro Music (80's, 90's and some 70's)
-------------------------------------------------------------------
ARTSU!

xxx
Me n my adoring wolf <3
xxx
chimp on the barby!
xxx
my first artsu ever!
xxx
catching up on old times - w-
xxx
Helpful reminder about what I <3
xxx
The old gang
x


If I'm not on here, there are other forms of contacting me. Unless I'm out of course. ^^;

360 GamerTag: Kyro Freed
Chatango:KyroFreed
Msn: Mista_T_Hates_U@hotmail.com
Skype: Kyro Freed

-------------------------------------------------------------------
The dysfunctional family section <(

)

Fated Wings : Elder Sister
Thrice Bitten: Cousin
Ringotsubaree: Mother
Kiri_Shinigami: Elder Brother
Azami : Elder sister

ARUKAE is my cb wifey

Satans desire is my unoffical cb waifu

Nightwish Rose is my adoring wolfie <3
-------------------------------------------------------------------


Friends
Viewing 12 of 172 friends
Journal
poems and random stuff
Do it don't do it
Multimedia