The Grey Sanctuary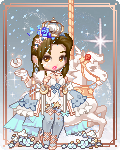 About
Jessa | Professional Artist | Puerto Rico
I'm called as
The Grey Sanctuary
but fans know me well as
Juicy Zone
. I love anything related to food, juices and desserts; also crosses. Usually my artworks consist from traditional to pixels, currently looking foward to work at Disney and learn animation 2D.
Hobbies and Interest:
✪
Love DIY!
✪
I'm always craving something sweet
✪
My Sketchbook is like my Holy Bible.
✪
Currently obsesses with Re-ments and Kutsuwa clay.
✪
I enjoy the beach looking for fish, adventuring on the forest, downtown...
✪
I have a good time with Web Design / Programming
✪
I collect miniature things and vintage toys such as Polly Pockets (BlueBird) and Star Castle (TrendMasters).
Please visit these links:
Journal
The Grey Sanctuary Journal:
HHHHHHHHHHHHHHHHHHHHHHHHHHHHHHHHHHHHHHHHHHHHHHHHHH
Bunch of things...