Greetings. I am The Final Boss. You have probably come across me many times in various video games. True, I'm difficult to fight and quite a nuisance when I take you out with my ultimate move, but when we're not opponents I am actually quite a nice person to be around.

Achievements Unlocked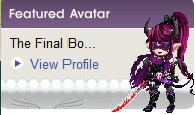 I was featured on the Gaia homepage on January 5 and January 6 2011
I completed my ultimate dream item quest for the Devil Tail on November 28, 2011.
I was also the first and original owner of Tall Candy Horns on December 1, 2011.