ThatsMyNightmare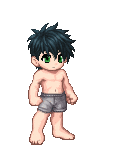 Birthday: 12/27
About
Sorry guy's if this is sudden.
But I've grown bored with Gaia, so I'm taking a break.
Maybe after a while I'll come back.
Don't PM me for the gold and stuff on here, gave it away already.
Maybe when I come back, I'll have fun again trying to raise it up.
If I come back.

If you wanna keep in touch, my e-mail is:

bio_experiment_x@yahoo.com

Until then guy's, peace out.