Tenkai Sanada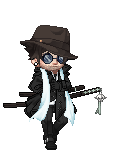 Last Login: 08/30/2015 3:53 pm
Registered: 03/07/2008
Gender: Male
About
Name: Jajuan

Alias: 12, Uta, Jay, Von

Age: 18

Artist

Musician(sort of)

Poet

High School Graduate



All you need to know...

What I look like...










Custom
My voice
Will it ever be heard?
Through the midst of this silence
Crying out for someone to hear me
Notice me
Why have I not been noticed?
Is it because I'm darker than everyone?
Because I like every gender?
What have I done wrong?
What have I done to deserve this?
Not having papa around much
Yet he calls and tells me
Son you are the man of the house
I'm not ready
I need guidance papa
Why have you left?!
Cursing under my breath
As I lost my faith
In this world
In humanity
In myself
Hopeless
Dead inside
Why didn't you hear me dad?
When I cried out for you?
Are we not perfect for you?
That you had to start another family?
And then you left them as well
Since when did fathers not take responsibility?
Especially after impregnating three women
Big brothers mom
My mom
Little sisters mom
When will you learn
That our voices
Have always wanted to be heard?
When will you notice?
My silent tears I cry
Are for you to come back
When will my voice be heard?
From this dark and unforgiving silence?
When?
Custom
MY ARTWORK




SemeOnStreetsUkeInSheets


Pierce The Freak

Other Artwork










Wish List