tempestdragoon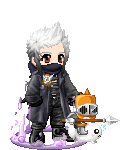 Last Login: 03/06/2014 9:41 am
Registered: 11/06/2003
Gender: Male
Location: Kneeling in prayer to the Emperor.
Birthday: 07/10
Equipped List
Interests
Favorite Movies/Anime
Favorite TV Shows
Favorite Reads
Favorite Music/Bands
Hobbies/Interests
Wish List
About
What is there to know? I am me. I can be fun. Mean. Loving or terrifying. I generally let others live their lives till they interfere with mine.
Journal
tempestdragoon's Journal
my lair.....ill talk and thats about it
Signature
To the Shadows I give souls of the fallen. And unto them I shall raise their powers and darkness. Till the shadows have consumed it all.
Please PM if you wish to be sacrificed or assist in the Shadows dominion.
I'm the Master until you join the join the shadow.
Hit me up on KIK tvaldaer