TekBoy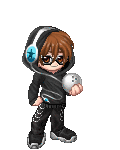 Last Login: 02/18/2015 6:31 am
Gender: Male
Birthday: 10/24
Interest Tags
Favorite Movies/Anime
Favorite TV Shows
Favorite Reads
Favorite Music/Bands
Hobbies/Interests
About
Just an average guy. I really don't know what else to say. I love music, it has gotten me through a bunch of tough times. My music library is constantly growing. I'm also quite into computers. Basically, I'm a computer geek.

I love expressing my creativity through writing. I always have these ideas swirling inside my head and will occasionally find myself putting them all into a story.

If there is anything else you need to know about me is that I love my friends and family. I'm always willing to put their problems before mine.
Journal
Tyler's Journal
Welcome to my journal. I'll be using it to write stories straight from my imagination.