About
Come to the Gummy Bear Charity!
Leave a comment Please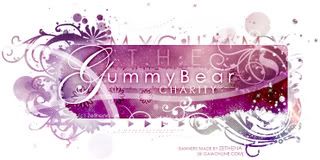 For those who were at Animethon 14 and 16 and saw a Sakura from Card Captors Jumping around that was me. I hope you all liked the Gaia panels as well!
The first law of reason is this: what exists, exists, what is, is and from this irreducible bedrock principle, all knowledge is built. It is the foundation from which life is embraced.
All knowledge is worth having!


Thanx- this_one_guy00 for the animated head
Sira_Black- is the best....Tsuki Mogos-chan- I love my coco
rg_krazy- You rock my socks girl
orange_penguin- *pokes you* Le Gasp....You are awsome
Kayito-san- OMG Anime convention this year ......we will be there
The best things that have been said!
Sira_Black Wrote:
Kehehe! There, I shall be the non-black and red savour!
<333

I decided I am going for some sort of Fae, but she got shot so then this kitty comes along and is alike "Woah! you got shot" and I was all like... "Man, being shot sucks" and then a bunch of trees agree. So then I deccide that being shot isn't such a good idea, so I grow wings, like on red bull only better, and my cat that thought I was shot is all like... "Woah! I thought you were shot!' and "Oh! misry! The band is still playing! It's horrifying!" Nuuuu!

And then I wake up, and realise I have been in a shugar induced coma all along. The end.


Oh, P.S. I give you 8.999999/10
Homurakitsune Wrote:
The purple of forgotten eyes,
simmering to jolt.
She intermixes butterflies
that still have yet to molt.


Friends
Viewing 12 of 128 friends
Journal
-=Naida_ Nymph=-'s Journal
Falling down is like falling up only the other way .
Signature

I <3 you so much Sira -Hands you her heart-