Teddybear of Death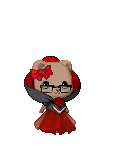 Gender: Animal
Please read this notice
9/2012

Still Alive!

Make a note here, HUGE SUCCESS.

No seriously, I've been working for a year, things have remained decently stable, and I'm ok.

Thinking about breaking my Gaia hiatus, at least to some degree, as time and my crappy, now 7 year old computer allows. So keep your eyes peeled for more from me!

Who're you wearing, daahling?
I talk about...
Favorite Movies/Anime
Favorite TV Shows
Favorite Reads
Favorite Music/Bands
Hobbies/Interests
The Pages written by the Bear
T-BoD's Chronicle
Whatever this bear cares to share she shall put there... ..And no, it won't all rhyme.
I deeply love gifts. Tryin' to get these items.
Treats from milzyPENGU