About
Don't talk to me, i'm a ******** douche bag.
bring your mom right up to the stow,
tell that b***h to bring home a faygo~

Name:
Syph.
Birthday:
5/30/88
Age:
18
Location:
Massachusetts
Favorite Food:
To many to list. I'm not fat either. >>
Favorite Game:
Anything Bomberman~ <3
Favorite Movie Genre:
Horror; Mostly zombie movies~
Favorite Bands:
HMMM, I WONDER?!
The Locust
, The Blood Brothers, Underoath, Bullet for my Valentine, Holy Molar, Screaming Monkey Boner, Atreyu, The Swing Kids, Showbread, The Classic Crime, Aiden, False Image, MSI, Retardobot, Further Seems Forever, City of Vanity, Hopesfall, A Change of Pace, Before Today, Permanent Me, Everytime I Die, Stars Hide Fire, Save the Day, A Wilhelm Scream, From First to Last, Mae, Set Your Goals, Deciding Today, Run Kid Run, Comeback Kid, Kids Like Us, Accepting Silence, 5 Star for Failure, After the Tragedy, Clearviewkills, Patent Pending, Trophy Scars, Drop Dead Gorgeous, Armor for sleep, and some other underground bands that play in my area.
Heroes:
Gabe Serbian, Josh Porter, and Wil Francis
Job:
I work at a zoo, cleaning tanks and feeding animals~ and I just got a new job at Strawberries~ O:
Grade:
11th; Junior
Pets:
Mine (all in my room):
55g tank: 5 Discus; 4-5 Otos [the tank is still being worked on]
200g tank: 2 Silver Arowanas; 1 Needlenose Gar; 3 Bala Sharks; 1 Common Pleco
55g tank: 2 Cornsnakes (Bred twice)
20g tank: 2 Turtles (i'm not positive about the species; they were abandoned and I took them in as little babies [possibly snappers])
10g tank: 3 HUGE hermit crabs
20g (half racked): 2 alasken dwarf bunnies~
30g (half racked): 1 Lion bunny
10g tank: Giant millipede
10g tank: Tarantula [adopted; not sure what kind]
12 Lovebirds; 1 Cockatoo; 3 Cockatiels
+Three empty 10 gallons, an empty gerbil tank; and a few empty cardboard boxes (for snakes)
Everyones:
70g tank: Dwarf Lionfish; Valentine Puffer; 2 Clownfish~ (in my kitchen)
3 Dalmations: Blaze;Boots;Rescue
What are you going to do when you get older?:
I'm not sure, probably some sort of musician type thing. I play the drums and i'm a really good screamo singer. P:
Clothing Style:
I'm not sure if I would 'label' myself, but if i did it would be more towards gothic. I wear chains and studded belts and all, but I don't ALWAYS were black, so I don't know. >>
Tattoos/Piercings?:
I have gauges in both ears and a side lip ring. I'm close to a full sleeve of tattoos...
Smoke/Drink:
I drink; I don't like beer; Rum/Vodka = <3. I've smoked a few times before, but I don't really like it.
Instruments?:
Drums <333
Gaia hangouts:
Music forum, Site Feedback Forum, Minishop Forum (and the subforums).
Other websites:
Gamefaqs[member/faq maker]; Gamerzplanet.com[member]
Non-item Gaia Wishlist:
Guild
[20k]
; The Mystics
[Flatsale price = 4k]
; Giraffes Unlimited
[Non-common = 2.5k]
; Soquili
[10k]
.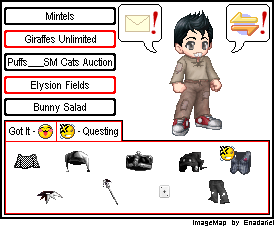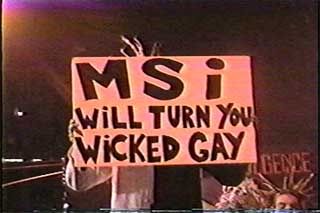 Friends
Viewing 12 of 13 friends
Journal
Hi.
Sup @ you
LOL OMG!11
Multimedia