「 S h a r r k a n ┊ シ ャ ル ル カ ン 」
■ THE LABYRINTH OF MAGIC ■







❝

SWORDS

「剣」

ARE THE BEST

❞





✔

women

✔

parties

✔

blame it on the a-a-a-a-a-alcohol

COMMENT  ADD  MESSAGE  TRADE
Why hello, hello ~
It's a pleasure to meet you! My name is Sharrkan, one of Sindria's eight generals, loyal servant of Sinbad, and
the best
swordsman in the Seven Seas ~ !
There's nothing I
can't
do with a sword. Countless of enemies have been felled by my blade and it seems my skills are unparalleled ~ Then again, do you expect of anything less?
However, there are SOME people that don't appreciate the majestic beauty of the heights overcome while depending
only
on your sword and skills.
People like that fat sea witch Yamuraiha -.- ...
Please...
Just don't be fooled by her looks. She's really arrogant, and stupid, and blehh...
Anyways, I'm actually not from around here. I came from a place far, far away; a kingdom in the sand. I left for personal reasons of course. There's way too much
women
world out there to not be witnessed, right? Sindria is one of them.
Enjoy your stay here in this humble island kingdom. There's much to see, and much to do. If you want, I can give you a great display of how overwhelming and breathtaking swordplay really ~ !
Ladies get in free of course ~




--

ooc

--
I'm usually on zOMG! at night playing with Sinbad, Hakuei, Morgiana, and occasionally
fat
blue magician, Yamuraiha. She's probably busy sticking her face in dusty old books like usual instead of fending off monsters like a
real
general.
Anyways, you can find me in DMS in one of the more populated servers. Our zOMG! clan is called
Dungeon Capturers
which was established on 02.17.13 ~
Despite being a cosplay account, I'm hardly IC. However, I'll mix a little bit of Sharrkan's persona in my own speech just for fun ~
Though I already have a small group of friends that all cosplay with me, I'm pretty open to friendship, so don't think just because I have my own little clique mean I won't associate with anyone else. Talk about being awkward, right? This goes for all of us.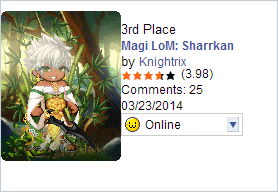 I won with my Sharrkan cosplay in arenas!

-in a room with a couple of bad bitches.-