swordangel05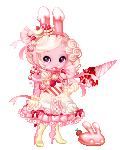 Details
Gender

Female
---
Interests
Favorite Movies/Anime
Favorite TV Shows
Favorite Reads
Favorite Music/Bands
About
I MAKE TEKTEKS FOR TIPS, DONATIONS, AND INK!!!!!!!!

Also have unwanted inks and bugs in your inventory? I'll gladly take them off your hands and your name will be added to my growing list of people who donated when I get my quest/shop thread up and running!! 'Til then all names will be displayed in my profile.
AWESOME PEOPLE WHO DONATED!!!

Man-Hugging Tree


Jumping Jehosaphat


final fantasy lover03


Ohiochan


Tessa LaCoil


Reyvateil_Shurelia


Winterlike


pag(xena)


Sunakura


Engetsu Aori


Porclein-Doll-Massacre


ll HaraJukuLovers ll


i h8 u i suk LOL


Misu Kayy


Andii Skywalker


Chimeres


Kh-Fangirl675


jeremiah was a bullfrog


C R A Y O L A_explosion


Cookie_MonsterzXD


EnaLeFay


Astraia Stars


u nd i


The Atomic Condom


la tapette a mouches


Anon

:ninja:Mineral Kittens:ninja:
:ninja:Yukimari-san:ninja:
:ninja:kiwi sammich:ninja:
Friends
Viewing 12 of 16 friends
Signature
I'm a freelance tektek-er
Donations, and tips are welcomed.
Those who donate will be added
to my ever growing list
Currently questing
Queen Marie's Velvet
39k/633k