What you needa know bout Sweety:
♥

Insta

♥

SoFurry

♥

Tumblr

♥

DeviantART

♥

Custom Prose

♥

Me in RL:
Female / Bi / USA / BBW / Writer / Loserface


.....
I
try
to be nice to everyone, so if I feel that you are offending me, I will react accordingly. I'm a human being, after all. Please treat me like a human and I will treat you like one, as well. Unless you'd rather be treated like a cat or something, I'll do my best to keep up! Either way, we're all humans, we all make mistakes and do stupid things. Let's get over it.
.....
Yes, I am of legal age and I am bisexual. No, this does not mean that I am horny all the time - please refrain from being a nasty little boy and just treat me like a human, okay? I am in a
poly-armorous
relationship! My boyfriend is bisexual, and since we both are, we figure we should be allowed to date our same-sexes should the opportunity arise. He can have a boyfriend while I can have a girlfriend. That is our rule - I will not date a second man; this is cheating in our relationship, like it or not.
.....
I do identify as a furry! No, I don't dress up and have orgies in the woods near a fire. No I do not prey on children. No I do not have a fuzzy fetish of sorts. I do, however role play
occasionally
.
My main OC is a natural witch
named after me! My username is Sweety-Bun because that is what my boyfriend calls me. I have
no mules
, so please don't ask.
.....
If you have any questions at all about me, please leave comments below (friends) or even PM me! I will report and block
all
rude users. Rude, hateful, and overall horrible PMs and Comments are not welcome. Just be yourself around me and we could be pretty good friends, okay? Just treat me the way you want to be treated.
.....
I am pretty good at making icons, and currently my specialty is Pokeballs! If you'd like a pokeball icon of your very own, all you have to do is PM me or reply in
my shop thread
. The form is on there and it's very super simple to fill out. Once I make the icon, I will save it on my DeviantART and provide a link for you after paying for it - each pokeball is only 2 bil gold. Not so bad, huh?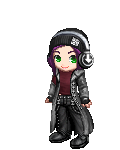 This is my

IRL

sister! Be nice to her or I'll call you terrible
names and be very, very upset, and write an angry letter.