SweetTootheBaby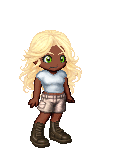 Last Login: 06/25/2010 4:52 pm
Gender: Female
Birthday: 11/21
Things we Should have in common .
Favorite Movies/Anime
Favorite TV Shows
Favorite Reads
Favorite Music/Bands
Hobbies/Interests
My Playlist
You currently have zero playlists!
SweetTootheBaby
. uh hi ? ,
i'm pretty diverse I may even be borderline for having a personality disorder.
-I can be chill
-I can be violent
-Or I can be wacko
Whichever, but I'm mostly just chill and not really worried about most things.
i keep my amigas close but my enemies closer.
I can't really afford to be bothered by nobodies so I guess don't look here ?
Perky people make me irritated
and .. silent people make me annoyed .
Sorry just how i am .
I don't like normal so yeah be not normal .
Lived in illinois once .. --
That's pretty much all about me in a nutshell (that you fellow 'gaians' need to know]
Diary
Diary, Journal, Notes .. Whatever
Whatever comes to my mind .
Signature
' Any girl can be glamorous. All you have to do is stand still and look stupid. '