SweetCupcakeee xP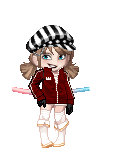 Details
Gender

Female

Birthday

06/03
About
I don't have that much to say about me.
But, always feel free to comment or PM me. I'm not that busy though.
Thank You for visiting my profile.


Friends
Viewing 12 of 86 friends
Signature



Draw by: Tojimo <3 Thank you so much, Tojimo!



[ Questing ]

Princess Mustachio and Cute Items.



Help me, please?