SweetBobaTea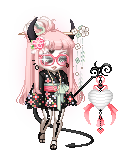 Birthday: 04/24
♡ List of wishes ♡
♡ About Moi ♡

♡Hello!♡


I'm ♡YanYan♡. Been on Gaia for about 3-4 years~! (So duh long

)♡
A-and I still don't know what to put in this.

Hehe.
♡♡ I'm not single! Sorry boys!(or some of chu girlies~).♡♡
(Reason I gotta say that is a lot of people can be seriously thirsty.)
It's still always nice to have a few chats with some of you lovelies~
Don't be afraid to comment or talk to me!


I'm just like any other stereotypical asian girl.♡
I love to dance,game,draw.


I love me some Boba Tea♡
Yushyush,so dericious♡.
I love cute asian things/icons; like Rilakkuma,Domo,etc.
I ♡ K-Pop.(EXO♡,etc.)


I think that's it..


LOL♡


Comment?♡
Meh Store♡


♡ (05/29/14) ♡