sun to sleep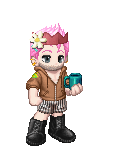 Registered: 07/01/2005
Birthday: 12/17/1990
About
[add comment]

Danny.
Scared of my future.
I'll do my best not to disappoint you or fail you.
I love to make others happy. I hate to make people angry so I don't tend to fight.
I'm a simple person that loves the simple things in life.
I strive constantly for new things in life. New foods, new friends, new scenery.
I love all the seasons in this order: winter, fall, summer and spring.
I love nature and all it's wonders and beauty. So I write poetry about it.
I love love.