About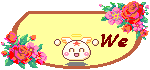 Hey! I see you've stumbled across my humble profile. As you can see, I'm a spaz.... I hope that doesn't get in the way of things.... I hate describing myself so.... LOOK AT THE PRETTY ANIMATIONS!!!





Friends
Viewing 12 of 26 friends
Journal
shinsei tenshi's Journal of journaly journalness
my thoughts and rants... and anything else that pops into my mind...
Signature