Suki Kato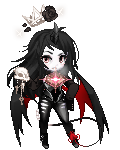 Details
Last Login

11/15/2017 1:10 pm

Member Since

10/30/2008
Occupation

Barista at Starbucks

Gender

Female

Birthday

01/14/1992
---
Interests
Favorite Movies/Anime
Favorite TV Shows
Favorite Music/Bands
About
Avi Art! The coolest ones were done by turbotastic
ARTARTART!!!
Let's see now...my name is Rebecca, I'm 25 years old, Sagittarius (according to the CORRECT star alignment during my time of birth), my Chinese Zodiac is the Monkey, and I work at Starbucks.
I drive, I do not have my own car, nor any credit for that matter because ******** fees, I live with family in a decent-sized house with many animals so I'm never alone here.
I like Anime, Music, Art, but hate most people. Oh and spiders. Yeah screw those things.
On top of my love for art and music, I play Piano and sing a bit as well. I draw, only when inspiration hits, it isn't often. I used to be into Photography but the inspiration for that has also come and gone. My tastes in music range more closely around Indie and Classical music. Relaxed and professional is more my taste.
I am very overweight, I have PCOS which causes unsightly body hair in all sorts of places, and unlike a lot of big women I've met in my life or who are out there modeling for TORRID or Vogue or whatever it is they do nowadays, I do not portion my weight well so my body is not as evenly distributed as I would like. I will never in my life believe anyone when they tell me I'm beautiful because it's just not a thing for me anymore. I will not believe it no matter what anyone says. You cannot change my mind, because it is made up.
I could tell you all the s**t I've been through but that would go from explaining my very first relationship from High School to my current Single status and believe me, nobody wants to hear that. It's long.
If I missed anything, other than saying I'm a huge Walking Dead and Yuri!!! on Ice fan, feel free to toss a message my way.
...oh yeah...I ******** LOVE STEVEN UNIVERSE.
Journal
Memoirs of a Kato
A day in the life of a no-life.
I don't write much in this but if I did, it'd be something interesting.
Multimedia