About
I joined Gaia on 2/6/2004.


Look up the term "Seniority"!
The Girl;
Hi. I'm not going to tell you my name. Most people on Gaia just call me Saria or String, so you can too. I've had several different screen names, only because I've decided to abandon Gaia and then re-join it about a thousand times. Luthein, Saria Dragonlilly, Saria Doragon and String x Theory are the only screen names I have.
I have a life outside of Gaia, which explains my long breaks away from the site. When I am online, I love roaming around Gaia's roleplaying forums. I'm a huge fan of the commerce section of Barton Town. Come roleplay with me at
The Heartless Manor
.
I only play one character, Saria, who is incredibly complicated and builds upon all the roleplays I've been part of over the past 9+ years.
The Character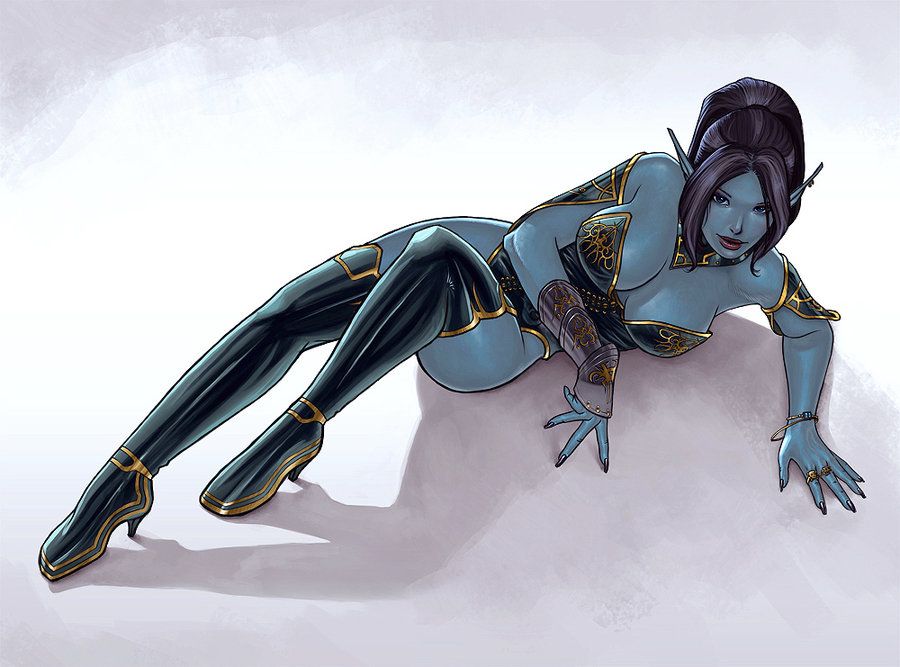 Quick Info
Name
: Saria
Race
: Dark Elf
Age
: Looks 20's
Natural Power
: Earth/Foliage (think Poison Ivy for good power reference)
Class
: Assassin
Skills
: Stealth, Agility
Weapons
: Daggers, Throwing Knives, Hidden Blades
Fighting Style
:
Northern Shaolin Kung Fu
-------------------
Appearance
:
Hair:
Mid-back length, dark blue
Eyes:
Bright orange (turn green when using her foliage powers)
Skin:
Ash-blue with dark blue tattoo-like markings all over her body
Height & Weight:
6'0'', 160 lbs
Build:
Thin, lean muscle. A lot of upper body strength.
Clothing:
Saria tends to wear tight fitting, short, & revealing clothes. Styles typically considered to be "club wear". But her accessories usually double as weapons and she is always armed, even if you can't see it.
-------------------
Story

:
Saria was born and raised an Elven hunter. She grew up in a pretty normal Elven family, had stiff but loving parents, and was raised in the deep forests. She was proficient in bows and arrows, as most Elves are, but sought mastery of other weapons as well. She found a delight in using assassination techniques, her Elven feet keeping herself nearly silent, and her pointed ears the ability to pick up on the faintest sounds.
One day a group of vampires attacked her home. Her parents were among those that perished, and after that Saria vowed to be the best vampire hunter in Gaia. She honed her craft and became a very powerful and very feared vampire slayer.
After many generations of hunting vampires, things began to change. Circumstances lead to her being forced to trust some vampires, hunt with others, and she even owed her life to one. Slowly but surely, her vampire hunting days began to simmer out, but she will always bare the suspicion in the back of her mind, holy water and dead mans blood at the ready, just in case.
She settled down on the outskirts of Barton Town, starting up her own bar and inn. It has undergone several name changes over the years; from the Black Rose Bar, to the Midnight Waters, to the High Spirits, and settling finally as the Heartless Manor. Through name changes came friend changes and family changes, and she bares the scars of getting too close and losing the ones she loved.
After an unusually long time away from the Manor, Saria stumbled back in and re-opened her home with newfound drive. The years of emotional abuse, abandonment, and confusion had worn on her, though, and she found herself unable to keep up with the demands of the manor, particularly the demands of protecting her ever-threatened home. In attempts to gain more control, she enlisted the help of an old friend to help with some genetic engineering. The experiments caused her to turn into a dark elf, with a new look and new personality to match.
-------------------
Genetic Enhancements

:
Since being genetically modified, Saria has gained the following abilities:
Heightened Consciousness
: This allows for all senses to be 'heightened' or 'increased'.
Sight
: Sharper focus, ability to see several miles away, can detect the slightest movements around her, excellent night-vision.
Hearing
: Extremely pronounced hearing, can pick up on the faintest sounds like breathing, whispers, the rustling of clothing, etc cetera.
Taste
: Can detect any abnormality in foods, which in turn makes her a pretty excellent cook when she gets around to it.
Smell
: Can pick up very faint smells from far distances.
Feeling
: Has a sort of 'sixth sense' to detect shifts in people's moods, can accurately predict what people are thinking/about to do (not a mind reader, this is not an exact science).
Heightened Strength/Resistance
: Due to an injection of Adamantium, Saria has increased strength as well as resistance. This means that she is stronger, faster, and doesn't get injured as easily as before.
Force Field Bubbles
: With a swift hand motion, Saria can conjure invisible bubbles of impenetrable force fields. These only last for a few seconds, however.
-------------------
Items of Power
Saria also has access to the following magical items that are stored away at the Heartless Manor (some are on her person at all times):
Disguise Mask:
A simple 'super hero' eye slit mask that allow's the wearer to cover their entire form in the illusion of whatever image they so desire. The illusion is powerful of the mind, yet thermal vision, or other heightened perception's could give it away.
Storm Horn:
Summon's an average thunder storm within a couple mile radius of its use. Create's mist in hot climate's, and can be used to many unexpected advantages. Linger's for half a day tops once a day, including only potential torrential rain, heavy wind's, and the occasonal completely random lightening strike ( This item doesn't control the storm )
Adamanize Powder:
Once inhaled ( Doesn't matter how ) it'll turn the user into solid extremely dense adamant at the cost of complete mobility, or functionality. Last's for 1 hour ( Half if only half is taken ). Perfect for surviving impossible to escape explosions, and much less practical in any combat situation.
2x
Twin Earings:
A pair of enchanted earrings. Allows one of the owners to 'summon' the other ( Yes, instant teleport transmission ) to the other once a day. With both individual's wearing the earrings they'll have the conscious choice to allow themselves to be summoned. Should one person only be wearing one earing someone else with two can summon them against their will.
2x
Weighted Headband:
Enchanted varied colored headband that apply an additional 100 to 500lb evenly distributed across the body. Intended for extreme training, or emphasis of strength over any hope for speed, or the other way around. )
Invisibility Cloak
:
Uses a special reflection technology to seamlessly blend the wearer in with their surroundings. Completely invisible when wearer is perfectly still; when in motion a sort of 'heat wave' can be seen if someone focuses on it.
Numb-All Ring
:
When activated, temporarily relieves all pain within the wearer's body & mind. Effects can last up to one hour. Physical/Mental injuries still remain.
Space Pouch
:
Small pouch that can be tied to a belt or weapon sheath. Opening is one foot in diameter. Pouch can hold up to 300lbs of items without any added weight to the wearer, provided that the items can fit within the 1 foot opening.
Portal Popper
:
A small golden orb that looks like a charm for a bracelet. When activated, it tears open a firey black portal for instantaneous inter-dimensional travel. The portal can only remain open for a limited amount of time before auto-closing.