About
This Profile Has Been
-------------------------------------------------------------------------------------

Oh, wait.... That's not right. Let me try again. -clears throat-
My name is Steffy. I'm 22. I am a nerd. I am also happily taken by the most amazing man in the world (who is also a nerd).

I love you, Jacob!!

I'm usually really nice and sometimes hyper. I can be very patient about some things, but other things...not so much. I'm also extremely random. Don't be alarmed when I say random things. ...Okay, maybe be a little alarmed.
I like classical music, J-pop, J-rock, rock, and reading books (Ha! You thought I was gonna write another music genre...).
My hobbies include writing, drawing, and playing my viola. Moreso the first two because I haven't had too much motivation for playing the viola...
I LOVE anime and manga. What am I interested in? A lot of things. If you wanna know, get ready for a long list as though you were being lectured by your 80-year old grandma.
I also love Hayao Miyazaki's movies, and my favorite as of now is The Secret World of Arrietty. <3 But, all of his movies are fantastic. I personally would love to see him make a Nutcracker Ballet movie.
I do like some novels, but I mostly read manga. I've got a ton of manga. So what?
Here's my new trainer card. Credit goes to brightsword0 for making it!
I speak English (very well, actually), but when I watch too much anime, I start saying random Japanese phrases. Sometimes, it extends to online conversations. So, if I start saying things like, "Kawaii!!" and "Sugoi!" and "Ore wa Kaizoku!" don't worry. That's normal.
I GOT A JAR OF DIRT! ~ I GOT A JAR OF DIIIRT!!! ~
...
My favorite color is green! Green green green green green! And black and some shades of pink..and white!
My favorite video game would be any of the Fire Emblem games. And Legend of Zelda. They make awesome games. And Pokemon (Heartgold is still my favorite), Golden Sun, Rune Factory, Kingdom Hearts, the Tales series, and Luminous Arc. .....Ocarina of Time for the win!!!!
So, I took a couple of Fire Emblem quizzes. The first was which Fire Emblem character I'm most like, and apparently, I'm Fae. The second was which Fire Emblem Prince is for me, and it's Ephraim. The last quiz was what Fire Emblem Dragon I am, and I'm Ninian. Not bad, quizzes. Not bad at all.
My favorite Japanese artists are Last Alliance (

), BOYSTYLE, Kalafina, myco, Tomofumi Tanizawa, savage genius, and Rythem. Don't know them? Sucks for you! ...Just kidding.
And thats some stuff about me! For those of you who read this.... Congratulations. You're literate. For those who didn't.... Go learn how to read.

-------------------------------------------------------------------------------------
"When the thunder crashes around me, be there to catch me tenderly in your arms, and hold me until the storm passes."
-------------------------------------------------------------------------------------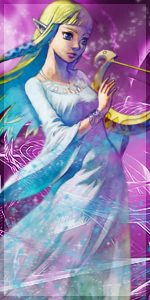 "En dashe bu node shundu tie shutwu kewanu swa lei" ~ Ballad of the Goddess (LoZ: SS)
Friends
Viewing 12 of 43 friends
Signature