Stay Focused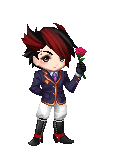 Wish List
About


Hi! Welcome to my profile!
I guess you wanted to know about me right?
So here it goes!

You can call me Stay.


I sound unfamiliar right?
Welll im a returning gaian..

I had my own account here on gaia
but I forgot the ign....and pw.. Twas yeeeeears ago


(but i think that ign has something to do with bunnies?))..
So scratch that...im starting a new here. ♡
I asked my sis if i could have her old account(which is this)..
Yeah she gave it bc she doesnt use it anyway..


I am a very big fan of DETECTIVE CONAN and pokemon ♡
Especially PIKACHU !
Yeaah im a big fan of pikachu > w<
Im also a fan of black butler (kuroshitsuji) and kaichou wa maid sama!
I also live dogs and cats.. cute stuff is my weakness!
Draw me with pika?



Right now i log in here just to play LK..
My sis let me borrow her kin to help me start up.. XD
Well im grinding while watching pokemon

Signature