ABOUT MY AWSOME LIFE!!
HELLO, MY NAME IS CLARK BUT EVERYONE CALLS ME CLARKY! (so call me that).
I AM 19 YEARS OLD!
IM AUSTRALIAN AND NO I DONT RIDE A KANGAROO
BIT ANIME FAN MAINLY GINTAMA, ONE PEICE AND MIRAI NIKKI.
I AM STUDYING TO BE A CARPENTER (JUST LIKE JESUS)
I HAVE WAY TOO MUCH TIME ON MY HANDS
I AM A HARDCORE GAMER ADD ME ON STEAM AND ILL PLAY TF2 WITH YOU
I PLAY BASS CAUSE IM BOSS!!
I AM ALSO A FAN OF DEVO!!
Statiqsnake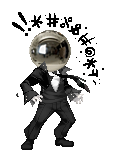 Last Login: 12/08/2013 6:20 am
Registered: 05/07/2007
Gender: Male