About
The name's Crystal... or Starr =D
Follow Me On Twitter !! <--- CLICK NOW xD
Yes I have Facebook but please don't ask me to be friends with you on FB even if you're good friends with me on Gaia. Many reasons I cbf to type xD .
Details:


- Have been in this world for 4teen years
- Typical Chinese-Australian
- I'm a

anime

drama fanatic Dx
- I read.. alot
- Music is my life
Add me if you want as I love random adds x]

~~~~ kthnxsbye!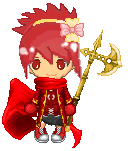 This is me


Friends
Viewing 12 of 94 friends
Journal
Please enter your journal title here
Multimedia
Signature