CLAN: ARMY OF ROOTBEER KITTIES
Ask to Join! We're cool people who love Zomg, kitties, and rootbeer! If you want to find nice people to game with, and make dates for dungeon runs or adventures like tag or hide and seek, this is the place for you!
Starflyer1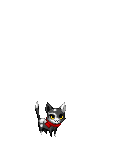 Last Login: 02/26/2015 6:12 pm
Registered: 11/09/2004
Gender: Female
Location: Florida
Interests
Favorite Movies/Anime
Favorite TV Shows
Favorite Reads
Favorite Music/Bands
Hobbies/Interests
My Aquarium
Messages!
Everything happens for a reason. It's not the 'reason' that's important, but EVERYTHING and that it HAPPENS, so while I'm here, I'm just gonna DO something lest I do NOTHING!

1 Timothy 1:5-
5 The purpose of my instruction is that all believers would be filled with love that comes from a pure heart, a clear conscience, and genuine faith. 6 But some people have missed this whole point. They have turned away from these things and spend their time in meaningless discussions. 7 They want to be known as teachers of the law of Moses, but they don't know what they are talking about, even though they speak so confidently.
About
My life has been ANYTHING but normal. Then again, what IS normal anyway? Sometimes you just need to take a deep breath and plunge into the version of Reality that lies deep in your heart and believe that all things will ultimately turn out for our good. What would be the fun of living a 'normal' life anyway? Why do the same things as others do for their approval? Why darken your soul with drugs, drinking, lies and stress?

I am only me, defined by my names on the internet and in my daily life with God. People see me how they want to see me, and I see them for who they are. Think what you want about what I do and say, I'm no liar. All I know is, that everything I'm doing is for a reason, and that reason is what will make the difference in the years ahead.

We all play our games, but what's the point in playing the games of this reality anyway? All I know is that my life is taking me somewhere, and I'm just enjoying the journey!


Reality is the greatest of life's illusions... Freedom is second, unless it comes from God.

------------------------------

I'm a writer who previous lived in So. Cal. Yes, Hollywood is full of glitz and glammer, but after awhile, I decided that the lone wolf lifestyle was something I could hold off on for awhile longer. So, here I am in Mid-Florida, living my life one day at a time. There is no such thing as 'taking a step back', in life, only taking steps forward. I know what I need now, and here, where my heart is, is where I can continue my search. I still love coming online whenever possible to meet people, network, and have some fun writing random stuff!

Currently working on a few scripts and other writings, including a novel. Yes... so much busyness.

Note: As for my age, ask and I'll tell you, but for now I'll just say I'm older than some of you think I am. ^_^V
Faith
I am a member of the body of Christ, and I love talking about the Lord to those who wish to speak with me about Him. My purpose on Gaia is to show kindness, inspire, share a few words of wisdom and help out those in need. <.< And have a bit of good, clean fun in the process. If you've already met me, then you've seen the real me. I want to get to know you, ALL of you on here, no matter what you believe or how you live. Because, we ALL need help sometimes, and I want to help people.

If someone angers me, I quickly forgive them. I know I still have my issues, but God's dealing with me about it, so don't worry, most of the time I know when I do wrong, and do what I can to make it right. I AM still a work in progress, just like everyone else.

I'm not here to push a religion on people, but to just to say, as the Lord Jesus did, that God is real, He is here, and he sent down Jesus to lead us to him! He loves us and if we ask Jesus into our hearts and lives, well... I know that my life has never been the same since!

He see us all, and what we do, and loves us anyway! Feel free to accept him for who he is, because he first accepted you for who you are. He's not surprised by you, or anything you do. And He loves you anyway.

If you ever look back and realize all the wrong you've done is holding you back, and in your heart desire to make it right with God and people, there's a prayer that you can say, to allow God to come and work with you! We have freewill, and God only comes when he is asked! Only by faith and trusting in God, who is beyond all our understanding, can we gain the strength to go along the road He has set out for us.

-Lord Jesus, I know I am a sinner and have displeased You in many ways. I believe You died for my sin and only through faith in your death and resurrection can I be forgiven.

I want to turn from my sin and ask You to come into my life as my Savior and Lord. From this day on, I will follow You by living a life that please You. Thank You, Lord Jesus, for saving me. Amen.-

Any questions, pray and PM me, and I shall do my best!
A Bible helps guide you through troubled times. Read one with the spirit. If you don't have one, here's some links to online ones!
http://www.st-luke-church.org/bible-at-finger-tips.php
http://www.biblegateway.com/versions/good-News-Translation-GNT-Bible/

And wanna watch some good programming?
www.TBN.ORG - good programming, movies, many different kinds of preachers
www.jctv.org - good for teens and up 13-29. Love it!
www.joycemeyer.org - One of my favorite preachers! 'Enjoying Everyday Life!'

In light and Love!
Starflyer