About
First off let me welcome you. Now, then I am ssTidus, or Sephiroth as people have come to call me. -Waits for idiotic rant about how sword isn't gaia sama- First off, worst over compensation for his sword, that an refuse to be the sterotypical version of him. -Waits for second rant on how I am a vampire- Yea so what of it, this is my avatar, thus my take on his pale skin which if you paid close enough attention to you also would see, as for his green eyes I prefer the eyes of the vampire. That an I am proud to be one of the originals from the 2007 halloween event. -Listens to how idiotic peoples take on the vampires from twilight- Now as for that subject don't class me with those sparkling faeries, worst slap of a insult to the classic that is Dracula written by the great Brahm Stroker. That an it was her look though being the insult it was when she wrote that series. No more questions? Good on to me. I am a gamer, playing such games as call of duty: Black ops (zombies), Borderlands, Kingdom hearts (the entire series),Pokemon, Final Fantasy, as well as other Rpg's.
RPC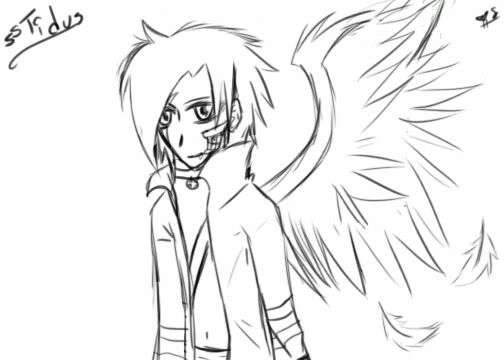 Age
: Forever 20
Race
: Vampire (Noble blood turned by Vladimir)
Weapon
: Skilled with blades preferably his Katana that never leaves his side. Ha great marksmanship with archery an guns
Skills
:
Arcanic
(Mastery of the Arcana arts),
Teleportation
,
Magi sword
(Ability to infuse his weapons with magic),
Flight
(Honestly don't ask how with one wing), (next one might be odd)
Jedi like skills
(Hey when you deal with a
Sith Vampire Lord
, who has plotted to take over it's quite handy as a counter messure.),
Ki
based attacks (Yeah don't ask an I don't care about your feelings on that)
Bio
:Blends with the shadows, to traverse the world of light that he protected at the end of the vampire/human war. Recently has been asleep till being reawoken by a voice in the dark. Searching for the source of the voice, other then looking for the rest of the Vampire's who seemed to have vanished. He know's he is hated for the outcome that resulted because of his part, but he needs to find his redemption an find the Vampires he once called family.
Yes I am a KH and final fantasy fan: